It needed to be spacious, highly secure, inspiring and unmistakably Xero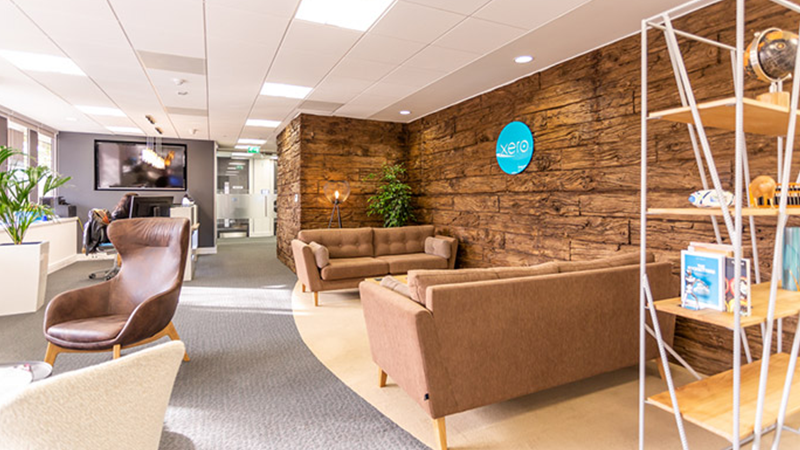 Phase 2 of the Xero Head Office furniture fit-out creates genuine wow-factor for staff and customers
Xero is a world-renowned developer of award-winning online accounting software.
Founded in 2006 in New Zealand, Xero is now home to over two-thousand employees and has nearly 1.6 million subscribers using its cloud-based app. With a mission to help small businesses thrive through the use of better tools, the charismatic company was identified by Forbes in 2014 and 2015 as the World's Most Innovative Growth Company.
Xero has offices in New Zealand and Australia, but it was their base in the UK, located in central Milton Keynes, that was the focus for a big fit-out renovation project for the team here at ACS.
See the head office fit-out for yourself and hear from Christine in our exclusive video case study:
The brief
In 2017, ACS completed a significant furniture fit-out for Xero in their main office space that also incorporated break-out areas and several meeting rooms.
Phase two was always earmarked as a complete interiors renovation of the client-facing area of the building. Before the project started, this was just an empty shell, but the Xero team wanted to transform it into a space that would be used every day to welcome clients, partners and passing staff members into the world of this fascinating brand.
It needed to be spacious, highly secure, inspiring and unmistakably Xero. And, given the experience gained during the phase one fit-out, ACS were certainly best-placed to make it a reality.
The ACS solution
The focal point of phase two is the new reception area which leads onto the presentation suites and classrooms used by the Xero team to train users on their software.
Take a sharp left after the reception and it's impossible to miss the spacious, bright kitchen area that's used by both staff and clients. Modelled on a modern cafe, it features plenty of soft and hard seating, a coffee machine and the unmistakable Xero brand values that can be found written across various walls throughout the building.
The reception area also sports an incredible feature wall made of wood panelling that also runs through half of the site. Two new boardrooms were also created, both of which feature the same branding and judicious use of natural light.
It was important for fun tweaks to be added, too, hence the inclusion of a fabulous hand-drawn illustration by artist Aidy Brooks and white boards in the kitchen on which people are encouraged to add their thoughts about the new office ("I wish my home was this amazing" was our favourite!).
The implementation
ACS called on its strong supplier and manufacturer relationships to source desks from Claremont Centre, task chairs from Orangebox, meeting room furniture courtesy of Sven, Ocee and Boss Design, and a stunning reception desk from Clarke Rendall.
It was vital that the office and education area were completely separate. This required a full access control system to be put in place and a state-of-the-art registration facility that enables visitors to quickly register and notify the person they're due to meet.
The presentation suites benefit from fully automated lights, blinds, projectors and screens, and sound baffling boards on the walls that are once again covered in Xero's unique imagery and branding.
The introduction of flexi-working required the installation of lockers, in which the staff can securely store their belongings thanks to a card entry system. This enables team members to move around between the countless new sit/stand desks.
The result
As Christine Prince, Facilities Manager at Xero UK notes, the office fit out has had a transformative effect on staff and clients.
"I think there's a real 'wow' factor for everyone who enters the building now," she enthused. "Clients can come in and see really nice classrooms in which they can learn and gain their certifications. People clearly love it; we've had some lovely comments and you can see lots of them on the whiteboards in the kitchen!
"When we first moved into the new area, all the staff downstairs wanted to come and work in that space! It just seems to get bigger and better every time you enter!"