ACS has set out to deliver our best-in-class service to the public sector through a strategic approach, being accepted onto several framework agreements which align and allow us to deliver a full suite of technology hardware, services and support.
Since ACS' founding, it has always supported the local community by serving the public sector to the best of its ability. For more than 25 years, ACS has championed best-in-class technology to evolve design and operation of workplaces, as well as safeguarding a business' online presence. By adopting forward-thinking technology, cyber security, communication and interior strategies, ACS customers benefit from long-term value generation, and a technology partner that can provide a competitive advantage over their rivals and a workplace experience to be proud of.
More recently, ACS has been accepted onto several Crown Commercial Services frameworks. These frameworks offer and provide cost-effective and compliant procurement routes to our public sector customers, enabling them to access a wide range of hardware, software, infrastructure, and cloud solutions quickly and efficiently. With our most recent appointment onto the Digital Outcomes and Specialist framework, we can give our public sector customers access to teams that can provide outcome-based solutions and technical specialists to support our customers' in-house digital technology projects.
"By leveraging the latest technology available, ACS will help to provide better security, work experiences, efficiency savings and ultimately, streamline and evolve existing services that are available to the Public Sector." – Stephen Harley, Presales Director.
RM6068 Technology Products & Associated Services
This Framework enables ACS to supply hardware, software, and associated services that allows customers to purchase, in mid to high volumes. The framework also allows for an element of service required to support the bid requirement. This would be ideal for customers looking for lifecycle or implementation services together with a hardware or software requirement.
RM6147 Technology Online Purchasing Content
This Framework is for Lower Volumes or for ad-hoc purchases and gives buyers a flexible route to buy a range of technology hardware and software products through direct award using the online catalogue. It is available to the UK public sector and their associated bodies and agencies, including the voluntary sector and charities.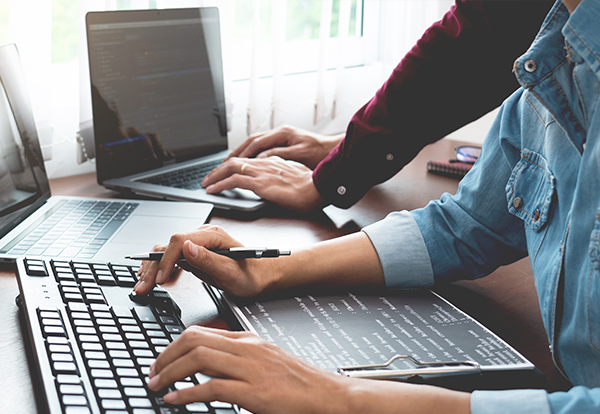 For Cloud related services or products, this is the recommended catalogue, Your requirement has to be a high level of cloud related product or service and is searchable to find suppliers, This Framework would include Cloud related products and the services required to support a cloud infrastructure including Cloud design and management services and allows users to have call of contracts for between 24 – 48 months for these services.
RM1043.7 Digital Outcomes and Specialist 5
If you are looking for a specific outcome-based solution or a specialist to deliver digital technology projects, this is the framework you should consider.
This is an excellent way to procure skills or expertise on a short-term ad-hoc basis to help deliver digital technology solutions, this can be design, implementation or even specific IT skill sets at fixed rates. It also allows for you to procure these short-term skills whilst complying with IR35 requirements.
Launched in July 2021, this new agreement builds on the success of the Technology Services 2 (TS2) framework, adding refinements to the Lots and making it easier and more efficient for customers to procure IT services.
The Technology Services 3 framework enables customers to procure information and communication technology services across the entire lifecycle; from strategy through to transition and operational deployment.