The Evolution of Furniture Solutions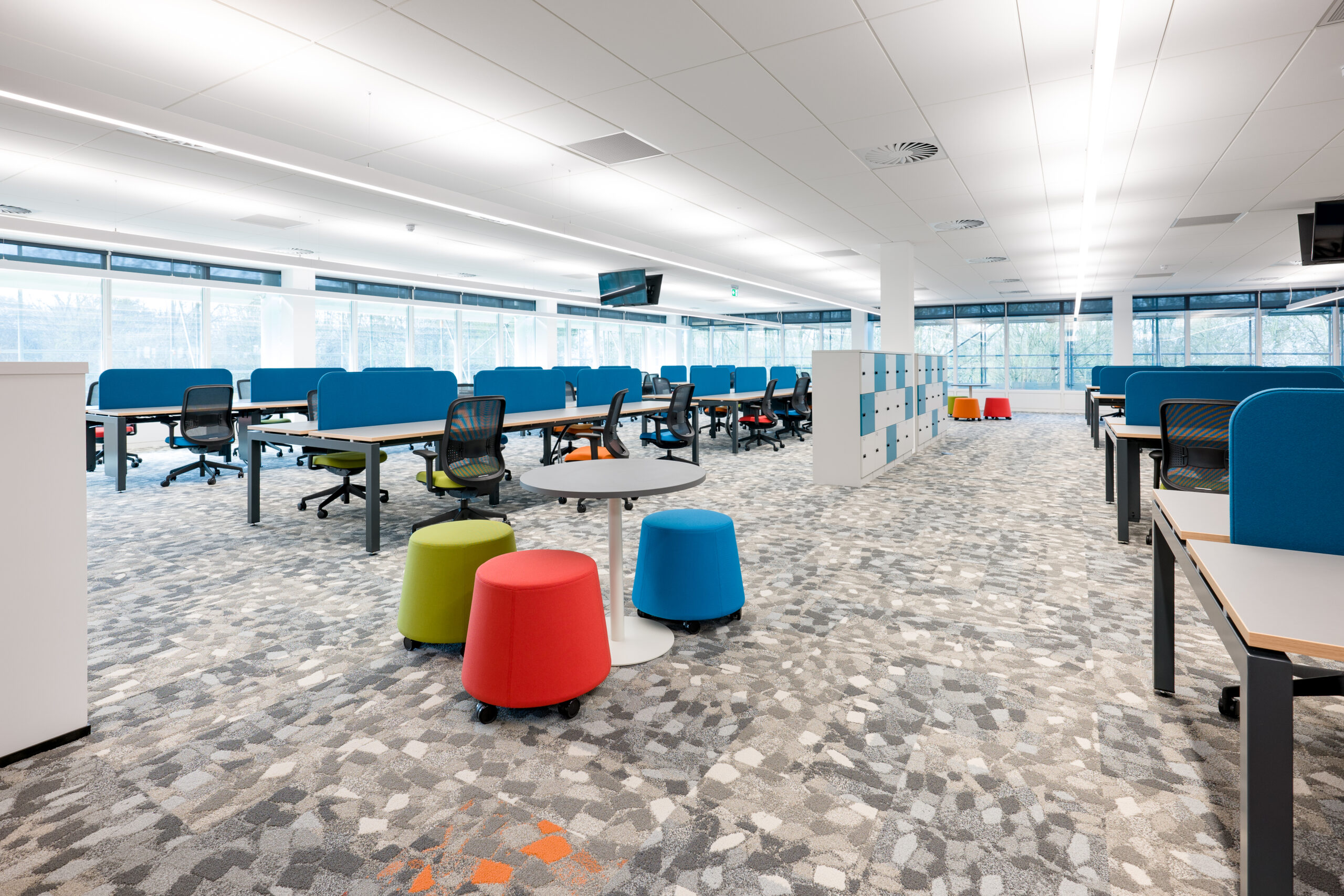 Ask anyone what has been the biggest enabler in our working lives recently and they'll probably say technology. And they're probably correct. But hand in hand with that, particularly in light of recent events, is the evolution of furniture solutions to meet the developing needs of a modern office and its workforce.
The pandemic gave employees an insight into what it was like working from home or social distancing in an office environment – but even before that, the emphasis had been on functionality and the shift away from the conventional desk. We'd become familiar with hot desking, adjustable workstations, and booths and break out areas where we could be more private, or more collaborative, depending on the task in hand.
Now that the workplace is, in general, returning to some normality, there's a greater focus than ever on health and wellbeing, and ensuring that employees are happy in the office environment and feel safe and comfortable.
ACS has a long history of providing office furniture for clients, and because of its range of specialisms is uniquely placed to consider the technology, security and connectivity that encompass any interiors plan if it going to work well.
The Interiors Division at ACS is vastly experienced in their specific sector, but have a natural affinity with technology, AV equipment and the like simply because there is such a synergy within our company. That means when we are advising clients, we're doing it with an eye on IT processes, support and back-end services, and understand what the technology teams can do to make the processes run smoothly and give the client the beneficial result they're looking for.
We are specialists in creating a blended workspace and providing clients with an environment in which they can be comfortable, happy and productive, a space they want to come back to.
Let's start with the products – because there's a range available on the market today that we are excited to offer, and, very often, when we start working on projects, we realise that clients aren't always aware of the innovative designs out there today.
Just a couple of examples that use fairly simple methods that really make a difference to people's lives – both of which were incorporated into an office fit-out for Northamptonshire firm CBTax Limited just recently.
The Liberty Task Chair: Liberty Ocean is one of the latest products to build on Humanscale's ergonomic philosophies. It has seamless functionality that allows the chair to instantly adjust to each unique user in every position, without the need for knobs, locks or levers. It's perfect for any hot desking environment, where less time is spent fiddling around with chairs when touching down at a desk, and more time sitting comfortably and being productive.
Monitor arms & integrated Docks: Another product from Humanscale that not only promotes a clutter-free workspace, but supports a healthier, more ergonomic working posture. Users are encouraged to align the monitor at the correct height for them, which helps prevent eye and neck strain. When paired with the M-Connect, the first-ever integrated adjustable monitor arm base and docking station of its kind, they are even more conducive to collaborative and hot-desking environments.
During 2021, we've seen clients encompass new ways of working like never before, and we've found partners like Humanscale and Spacestor tick a lot of the relevant boxes.
Even so, from chairs and desks to Teams booths and meeting areas, it's vital to take some time choosing what works for your office, furniture is a very tactile purchase and people want to touch and feel products before making a decision. That's why we encourage a visit to the ACS showroom, to spend some time 'trying before you buy'.
All our suppliers are proud of their environmental credentials – furniture was way ahead of the game with regard to that anyway – but it has become a question most of our clients ask. Is it sustainable, recycled, what is its carbon footprint? We use suppliers with a commitment to sustainable manufacturing – each Liberty Ocean chair, for instance, contains 0.9kg of recycled fishing net. It matters to us because we care and because we know our clients care, too.
Moving out of 2021 and into 2022 we're looking ahead to working with suppliers who enforce this message, and with clients who are looking for a new, modern way of enticing their people back into the office environment.
To discuss workplace needs, book a conference call, on-site meeting or a visit to the ACS showroom by calling 01604 704000