HARTING Ltd Office Refurbishment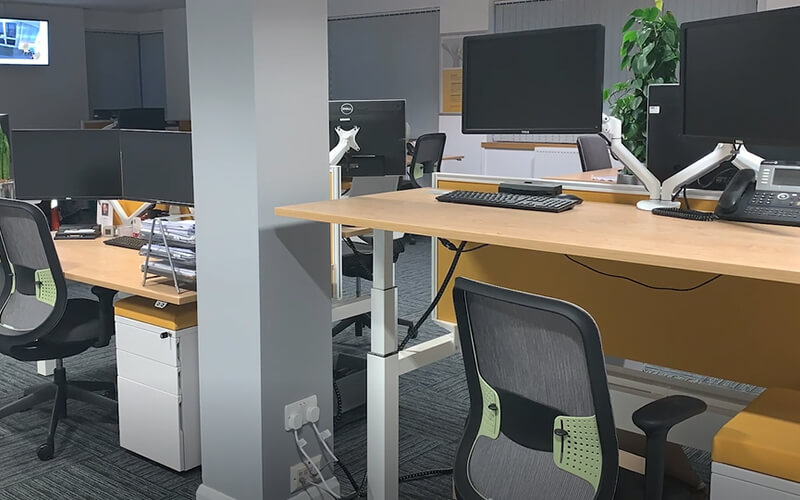 As it prepared to celebrate the 75th anniversary of its German parent company, as well as 40 years of the UK operation, headquartered in Northampton, HARTING Ltd called upon ACS Office Solutions to carry out an office refurbishment.
The new look complemented work on the staff restaurant a year or so earlier, and saw the offices transformed with a new colour scheme reflecting the firm's brand colours, as well as new furniture, office partitioning and flooring.
Peter Hannon, Managing Director of HARTING UK, said:
"We knew what we wanted, but we needed ACS's assistance in bringing it all together. We wanted a fresh new open-plan space that was flexible for our employees, with breakout areas and plenty of space, but we also needed soundproof spaces where meetings could be held in which sensitive information was being discussed."
WATCH THE VIDEO
The project was managed by Grant Stewart and Craig Lyons from ACS, who began by meeting with the team from HARTING to discuss their requirements and brief the company on the options available. Those meetings, coupled with visits to the ACS showroom on Brackmills Industrial Estate, where HARTING representatives could get a clearer idea of what could be achieved, resulted in a plan that saw the refurbishment take place over three phases in the summer of 2019.
Grant said:
"The project saw us using a range of suppliers, including chairs from Orangebox throughout, chairs and tables from Sven in management offices and Claremont Centre sit-stand desks in the office area. Frovi furniture completed the canteen and Ocee acoustic panels and desks for the board room. Modular desks in the boardroom make it a multi-purpose room that can be configured to meetings, training or presentations, giving them an adaptable space. New carpeting was laid in the offices, while luxury vinyl tiles from Interface transformed the stairs and corridor areas."
The three-phase plan allowed HARTING to carry on working as normal throughout the refurbishment, with staff simply moving from one area to another while work was going on.
Craig Lyons added:
"Part of the brief was that HARTING wanted to concentrate on the wellbeing of staff. They'd already reconfigured their restaurant a couple of years ago because they felt that staff from the warehouse and the offices were not mixing, and they wanted to change that by creating a welcoming environment for everyone to use.

"This time, they were keen on things like sit-stand desks, breakout areas and lots of plants and greenery that just made it a nicer environment for everyone."
Peter Hannon added:
"When we decided to refurbish, we wanted to work a well-known local company that we knew and trusted that had experience, and ACS were innovative, great to work with and trustworthy."