Gigabit Business Connectivity from ACS, powered by CityFibre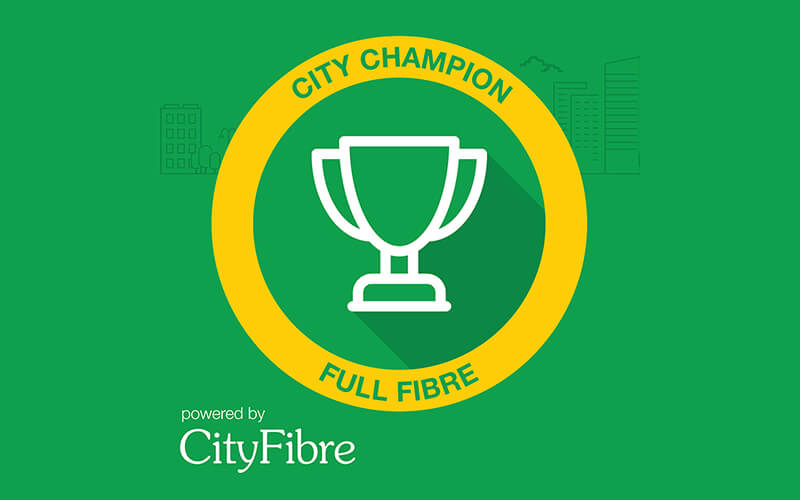 ACS Office Solutions is proud to be announced as a City Champion partner of CityFibre in Northampton. Just one of an exclusive number of City Champions across the UK that are strategically aligned with CityFibre, with a strong focus on supporting full fibre business.
CityFibre is awarding City Champions like ACS Office Solutions because of their clear passion and commitment to putting full fibre – and CityFibre – at the heart of their proposition, which in turn is helping businesses in their local community to thrive by unlocking their digital potential.
CityFibre's relationship with ACS and the ACS Communications team is an exciting one that's helping to change the UK's digital landscape.
For 25 years, ACS have been proactive participants in the change and evolution of workplace design. The needs of our clients have facilitated the breadth of our business. We build connected workplace environments with technology, communications and interiors, then place cyber security at the heart of our proposition.
Building workspaces and making sure IT is fit for purpose and can cope with modern demand is what we do in a nutshell.
In partnership with CityFibre, ACS offers business ultra-fast internet service providing businesses in Northampton, Milton Keynes and surrounding areas with access to superior, high capacity, pure fibre CityFibre based connectivity services.
With ultra-fast, gigabit-speed internet connectivity, businesses are fully futureproofed and ready to embrace the emerging hosted services that will help them innovate and succeed.
Powered by CityFibre, ACS offer businesses ultra-fast services enabling businesses to stop concerning themselves with bandwidth restrictions and start to make the most of new ways of working that will improve their experience and drive the bottom line.
"Our customers rely on their Internet connectivity more than ever before, the importance of being connected to an ultra-fast, reliable network is becoming increasingly obvious." – David Szreider, Communications Sales Manager at ACS
What does full fibre broadband mean for your business?
ULTRA-FAST, SYMMETRICAL SPEEDS & SUPER-LOW LATENCY With a pure fibre connection directly into your business, you will have access to symmetrical, gigabit-capable upload and download speeds, increasing efficiency and productivity. Our new full-fibre services are not restricted by legacy copper infrastructure, meaning practically limitless capacity and they're available in a choice of options to meet your individual needs from GPON to dedicated Ethernet.
NO SLOW-DOWNS, NO MATTER HOW MANY PEOPLE ARE USING THE NETWORK Gigabit speed internet is on average 100 times faster than current copper based broadband. This means that it's possible for everyone to do whatever they need online at the same time with no waiting around for pages to load or content to buffer.
NEXT-GENERATION SERVICES, CLOUD COMPUTING & REMOTE BACKUP A pure fibre connection can support your business now and as your digital requirements evolve in the future. Virtually limitless capacity means a new world of applications become practical solutions, from Office 365 and video conferencing, to cloud computing platforms such as Amazon Web Services and VoIP.
REVOLUTIONISE THE WAY YOUR BUSINESS COMMUNICATES Ditch your current landline for cheaper, smarter VoIP telephony and have your meetings face to face with HD video conferencing tools. With gigabit speed internet, lag-free video conferencing will be the norm, helping to bring businesses together, even if they're on opposite sides of the world. Talk to us to find out about our Hosted Voice solutions and how we can build them into your solution.
RESILIENT, RELIABLE, RESPONSIVE Business-critical services can run smoothly over the state-of-the-art infrastructure, where pure fibre connectivity represents a truly diverse connectivity solution, completely independent from incumbent infrastructure. Our business class 100% SLAs and 9 business hour return to service guarantees* mean that if you do encounter any issues, they are resolved quickly and efficiently.
The digital revolution is on your doorstep.
Find out how our market leading portfolio powered by CityFibre can help you grow your business and operate more efficiently.
Contact ACS to speak to a specialist or watch back our recent webinar – Shaping Britain's Full Fibre Future
In this webinar we discuss;
How Britain's data consumption is growing
Why the UK needs full fibre to achieve a true Digital Britain that supports businesses
How CityFibre is leading the Full Fibre revolution in the UK
What the impact of CityFibre's full fibre network means for your region and your business.