WELCOME TO MICROSOFT 365 & SURFACE: THE MODERN WORKPLACE IS EVOLVING.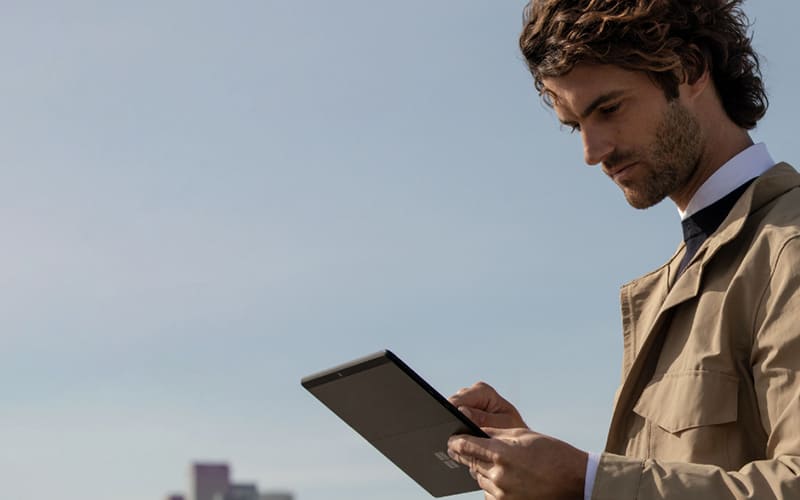 Microsoft 365 and Surface deliver the experiences employees love, the protection organisations demand, and flexibility for teams to work their way. Encourage productivity, engagement, and collaboration with Surface for Business.
9 hours
According to Forrester Research, Microsoft 365-powered Surface devices give users up to 5 hours in weekly productivity gains with up to 9 hours saved per week for highly mobile workers
112%
ROI on Microsoft 365 with Surface
75%
Agree Microsoft 365-powered Surface devices help improve employee satisfaction and retention
PRODUCTIVITY CLOUD & SURFACE
Devices they love on the platform you trust – all supported by secure device management
• Experience industry-leading typing comfort
• Dictate with your voice
• Draw and write using Microsoft Ink
• Distraction-free Focused Inbox
• Add live captions
• Translation tools
• Collaborate with Microsoft Teams
• Co-author Office documents
• Share ideas with Microsoft Whiteboard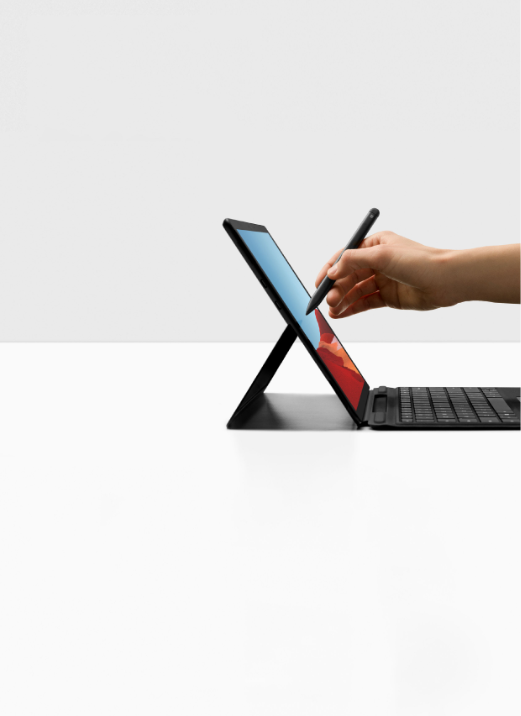 TOTAL SECURITY
From chip to cloud, Microsoft 365 and Surface helps organisations stay protected.
Security
Feature
Device
Feature
Surface
Feature
What does it mean?
SEMM (Surface Enterprise Management Mode)
Yes
Yes
Feature of Surface devices with Surface UEFI that allows you to secure and manage firmware settings within your organization.1
Conditional Access
M365 E5
Optimised user experience by granting access based on use of Windows Hello as multi-factor authentication built into Surface.
Protected DMA Access
Yes
Yes
We placed a boot mask over PCI-E port during boot so it is inaccessible, we remove power to entire device if the SSD is ever removed and during boot all of RAM is zero'd out by UEFI.
Windows Defender Credential Guard
Yes
Isolate and harden key systems and user secrets. This makes an attack against user credentials much harder to perform.
Windows Defender Application Control
Yes
Harden computers against malware and prevent malicious code. This stops code that has not been previously ratified as secure from running.
Device encryption
Yes
Implementing BitLocker, and managing that through a TPM chip.
Purpose Built UEFI w/TPM 2.0
Yes
Yes
All Current
Microsoft's unique Unified Extensible Firmware Interface (UEFI) is built by Microsoft, delivers automatic updates, and is consistent, minimizing risk and maximizing your control.1
Device Firmware Configuration Interface (DCFI)
Yes
Yes
All Current
Cloud-scale remote firmware management with zero-touch device provisioning. Eliminates BIOS passwords, provides control of security settings including boot options and built-in peripherals.
Removable SSD2
Yes
Laptop 3 & Pro X
Confidence around data retention on serviced devices.
Removable SSD
Yes
Yes
Written in partnership with the US security services, this tool allows you to fully wipe and erase a Surface. US DoD approved.
Microsoft Defender Advanced Threat Protection (ATP)
Yes
Providing evergreen and updated malware protection, digital forensics (to identify the attack after the event). Running the agents in a separate memory space (discussed in the next point) reduces the risk of the Defender code itself being compromised.
Windows Hello
Yes
Optimised
Hello process designed and tested for Surface. Surface camera specifically designed for Hello.
Physical TPM 2.0
Yes
By using a physical TPM 2.0 chip in most of the Surface range, rather than a virtualised environment inside firmware, we have a more secure and sandboxed environment for storing passwords, PIN numbers and certificates.
Secure Boot
Yes
Optimised
Enabled by UEFI and TPM 2.0. Only code signed, measured, and correctly implemented can execute on a Surface device.
BitLocker
Yes
Optimised
Our physical TPM and the UEFI control allows a significantly improved and integrated encryption solution.
1 Surface Go uses a third party UEFI.
2 Surface Laptop 3 and Surface Pro X only. Hard drive is not user removable. Hard drive is only removable by skilled technician following Microsoft provided instructions.
Find Out More About Microsoft 365 & Surface
• Seamless Deployment & Management
• Enhancing employee productivity
• Built-in for everyone
• Connect your Firstline to drive productivity through Microsoft Teams
• Drive cultural changes with Surface & Teams
• Streamline business practices with Power Apps
• Accelerate Teams adoption with Surface Hub 2S
• Drive cultural change with Surface & Teams
• Connect your Firstline to drive productivity through Microsoft Teams