Bringing a full-fibre network to Northampton and Milton Keynes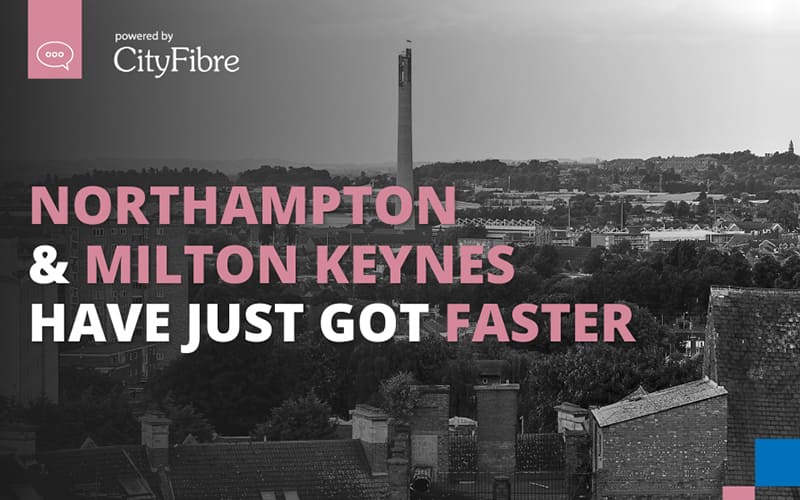 As a CityFibre City Champion since January 2020, ACS works with the UK's largest independent Full Fibre platform to deliver the benefits of a full-fibre gigabit network to businesses in Northampton.
Since CityFibre was founded in 2011, hundreds of thousands of premises have been provided with full-fibre connections across the UK, including cities like Northampton, and the revolutionary network is now being rolled out to other areas of Northamptonshire including Wellingborough, Rushden and Kettering and some of the larger villages.
With existing networks in 60 towns and cities, including more than £40m of investment in the Northampton area, CityFibre provides wholesale connectivity to businesses and consumer service providers, local authorities and mobile operators. The organisation has network rollouts underway to provide up to eight million homes and businesses across the UK with open-access full fibre infrastructure.
Full fibre connections direct to businesses provide access to symmetrical, gigabit-capable upload and download speeds, increasing efficiency and productivity. Full fibre means there is no copper to restrict the speeds networks can support, meaning practically limitless capacity.
Fully diverse and completely independent from the existing infrastructure, CityFibre's networks provide the assurance and quality of service businesses increasingly demand and expect.
James Cushing, City Manager at CityFibre, said: "The reason the full-fibre gigabit network is important is that, working with the likes of ACS, we are bringing a step change in connectivity to residents and businesses in Northampton. When we started work in the town, Northampton was quite a long way behind the national average for connectivity, speed and fibre availability. Since then, it has not only caught up, but it has overtaken the national average to become one of the best-connected places in the country. This makes it attractive to new businesses coming into the area, and to those already here who are expanding.

"The full-fibre network will be essential in the recovery from the pandemic and for businesses going forward."
1 MONTH FREE OFFER!
As CityFibre Champions, ACS is exclusively offering qualifying businesses* new to CityFibre before 30th Sept their first month FREE.
Already benefit from CityFibre connectivity? Refer a qualifying business* and you can also receive 1 month FREE when they sign up before 30th Sept.
*Qualifying Business Parks include;
Round Spinney Industrial Estate Northampton
Brackmills Industrial Estate Northampton
Lodge Farm Industrial Estate Northampton
Mount Farm Industrial Estate Milton Keynes
Crownhill Industrial Estate Milton Keynes
Caldecotte Lake Business Park Milton Keynes
Submit an enquiry form today to arrange a call back.