Support, Service, and more Support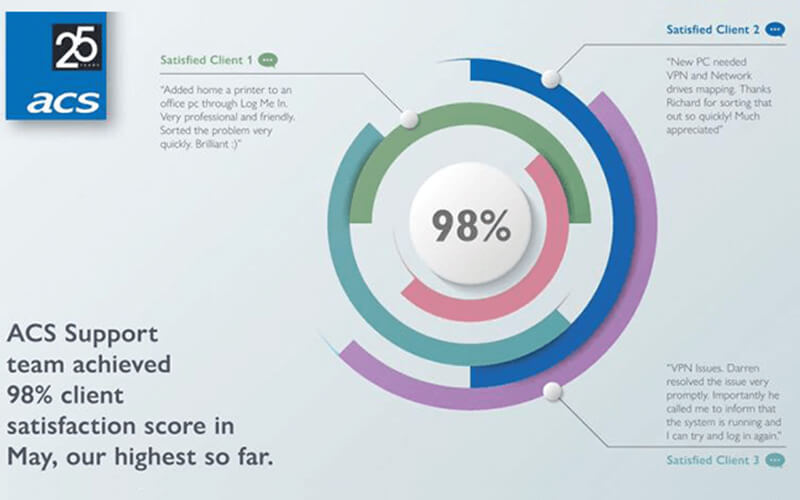 By Lee Horsman, Design and Marketing Director, ACS
Phase 1
March 24th 2020 doesn't seem that long ago, or does it? That is when the UK officially went into lockdown.
The initial rush was to supply hardware and enable clients to work from home effectively, maintaining services and ensuring software and hardware setups were remotely enabled and it created a strangely busy time at ACS.
We also made available some free video conferencing software on our web pages, supporting local and smaller businesses and not for profit organisations.
Phase 2
When clients had made the transfer to home working, we launched a series of webinars to support those businesses and their employees, providing knowledge, and access to tools from a range of strategic partners to further enable them to work remotely. Subjects such as Microsoft Teams were chosen but also other topics such as hacking your home workplace provided by an Ergonomist. The aim, to help people continue to collaborate with colleagues, to remain productive and efficient in their roles, and to do so securely.
We have also been updating our offerings and knowledge around Tech as a Service and investigating some of the fantastic financial offers we have available for our existing and new clients. We believe in the current circumstances this could be a lifeline to many when cash flow is reduced.
All the way through this process we have maintained the highest level of support to our clients. This was always going to be a key indicator for ACS and has meant our Support team receiving a client satisfaction score in May of 98%, our highest so far. At a time when numbers and statistics mean a lot this number in particular means a lot to us.
Phase 3
As the government sets its new standards for returning to work, we are reading, digesting and creating a back to work document with the hope of supporting our clients back into what is often referred to as the new norm. We have been producing space plans which take into account social distancing and therefore producing a safe headcount for the existing office spaces. However, a huge share of our clients will all be remaining and working from home, so maybe not such a big change for some? Home working and a split workforce will be part of the solution for a long time to come.
Interestingly one of the major stumbling blocks regarding working from home has been trust, surprisingly, both ways. Yet we have now all been part of the biggest Work from Home social experiment, surely of all time. What have we learnt?
As we reach this intersection, we have decided to seek some feedback, find out how our local business community has performed working from home and assess some of the tools you have been given. You could help us by clicking here and fill out our short questionnaire.
We are now offering a remote enablement survey to make sure all your tools are integrating, working well and one of our main concerns has been security. Does your existing cyber defense cover your new ways of working for example? Were your procedures updated or did you supply training? Did you know that in April there was a "667% increase in phishing"? Be careful what you are clicking!
Will we have to rebuild our culture when we return or has it developed over Microsoft Teams, 8×8 or Zoom, depending on your preference? Did you manage to maintain your principles, or will we all have to develop a new culture? After all they say, "Culture eats strategy for breakfast". I certainly think a virtual pint or quiz night is here to stay, I have enjoyed a few myself and the "ACS virtual pub" even had few lock ins!!
The Future
I've read many a comment on this subject but feel only a few have really considered the options. In truth there will be many businesses who are currently thinking "Do I need to return to the office?". At the very least they will be considering a reduction in their property footprint or a new property strategy. This change and thinking around property will impose many of the new ideas that work place designers have been discussing for the past few years. We would say at ACS that technology will inevitably be a key part of this solution. Whatever happens over the coming weeks and months and on the back of what is in effect, a national appraisal, I think the real changes may well come after the fact.
Your new workforce is ready, enabled, and capable of working from anywhere!