First Class Relationship Means Learning Continues at Ashford School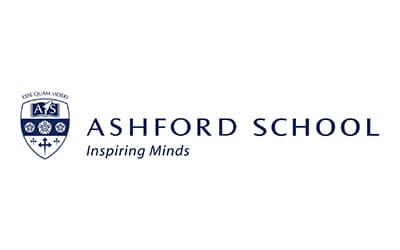 A long-term working relationship with ACS Office Solutions left Ashford School in the perfect position to react swiftly and positively to the onset of the first COVID-19 lockdown and prepared for changes in regulations and guidelines ever since.
As a Northampton-based IT and cyber security specialists, ACS has worked with Ashford School in Kent for a number of years on a range of projects, from major infrastructure projects to the roll-out of close to 1000 devices. Microsoft Surface Go laptops were provided to students in the Senior School and iPads made available for those in Prep School.
Boarding and day school students, teaching staff, and parents had become familiar with the functionality of the devices, leaving them confident that remote learning could continue seamlessly when the pandemic struck. During government lockdowns that have seen the school closed to all but the children of key workers, lessons have continued online and children and their parents have had access to teaching and support staff as well as the resources needed to continue to study at home.
Duncan Ricks, IT Manager at Ashford School, said:
"Making Microsoft Surface Go laptops and iPads available to all our students gave us the peace of mind that they had a device that was secure and suited to educational use, it's not always possible to do what we need to do through a privately owned device.
"When the pandemic struck, we were quick to react and, apart from a scramble for the usual consumables, like replacement chargers and webcams for those devices that didn't have built-in cameras, we were up and running pretty quickly. We have Microsoft 365, so we use Teams for online lessons, and we knew everyone had something they could work on during that time.
"Our ongoing relationship with ACS, and working with them over the years to stay ahead of the curve and build technology into the daily school life was certainly a major plus for us when something as unpredictable as a lockdown suddenly happened."
Work at Ashford School began in 2013 with the acquisition of a number of Apple Macbook computers for the music department. ACS sourced the hardware and provided the engineers needed to help set up and advise the users on how to operate the new equipment. From there, ACS Office Solutions Account Manager Sean Brookes oversaw an iPad roll-out in 2015, followed by the Microsoft Surface Go provision to Senior School students in 2018. That brought with it a requirement for more reliable and more secure wifi and upgrades to the wireless infrastructure.
After completing an initial wireless survey to see what condition the existing infrastructure was in, ACS Office Solutions analysed what needed to be done to ensure it would stand up to a full rollout of one-to-one devices. Advice from Duncan that the existing structure was quite flat led to the decision to segment the network and make it more organised; the fibre links and connections were also upgraded and the school moved to 10 Gig links. On top of the cabling and links of the network, ACS implemented the Ruckus wireless system throughout the school.
Sean Brookes said:
"Duncan was concerned about the security of the iPads on the existing network and so we went back and upgraded the wireless system to ensure it performed well over two different school sites but also met their security needs.
"Getting this technology in place made a difference to the students in general, but it really came into its own recently when it suddenly became necessary to learn from home. You can't predict being caught up in a situation like this but you can stay ahead of the curve and be as ready as possible for any eventuality."
As Account Manager, Sean is available to the school whenever they need advice, or an issue arises. Long-term strategy benefits from having the expertise and knowledge of someone with an eye on future developments in the IT sector.
Duncan said:
"Upgrading the entire network infrastructure was the biggest ICT project the school has undertaken for some time. ACS managed the whole project with my in-house team from design and installation right through to testing. No big project is without hiccups but at every incident, ACS found a solution that would work.
"On a day-to-day level, I know I can turn to Sean when I need something – we recently revised the type of protective cases we were using, for instance, because the ones we'd chosen turned out not to be up to the rigours of school use, and we took advice on insurance for the devices because, with children, you are inevitably going to need to replace or repair on a relatively regular basis.
"Looking further forward, both parties know that we will probably be looking to upgrade in the next 18 months to two years, and I know that ACS will always have an eye on what is going to be available by then, what products are being brought to market and will advise.
"At the same time, it's good to work with a company that doesn't pester you with sales emails and calls trying to sell you things you don't want and don't need. It's a partnership that works very well for us, and one that's certainly proved invaluable over the past few months."
Listen to our interview with Ashford School's IT Manager, Duncan Ricks