A Day In The Life – Lee Horsman, Design & Marketing Director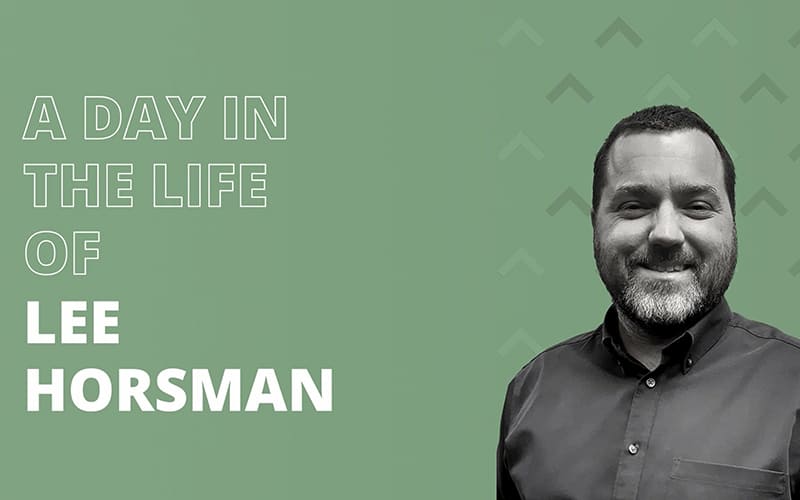 How does your day start?
I'm normally up at six and one of my favourite things is I've got an old-fashioned mocha pot. I make myself a nice strong cup of coffee in the morning that goes on the stove, and I've got five minutes while it's warming through. And that's normally when I would start trying to organise my day. Then the kids get up and the chaos ensues, I pack lunches, get everybody out of the door on time. Fortunately, I leave first, which makes it a bit easier for me. When I get into the office, I normally look at what I've got on my day, normally look at what meetings we've got, what projects we've got on etc.
Obviously depending on what kind of meetings I've got on during the day I might be spending time with a client. One of the things I love doing is mood boards for example. As a designer you're pulling many different things from many places. But the mood board is quite a nice way to work out if something is going to work visually for example. That's one of my favourite things.
Why did you join ACS?
The reason I joined ACS was I've been with some of the best furniture and interior businesses in the industry, but I felt like it was a needed change and what ACS was offering was those kinds of real blended results. So, they're really, I can tell you that there really is not many businesses that can provide an interior can provide some furniture and provide all supporting requirements around that. So, your IT, your WIFI, the security and all those other things. So there really aren't many people that can provide that blended solution. I saw that as an answer, to be able to talk to a client about this is the furniture, this is the space this is how it should work. But also, this is the IT that supports it and makes that work. I just felt like a really, future proof.
How did you. Find working from home during lockdown?
For me working during lockdown, one of the really great things was, I had not long started at ACS and when that kind of process ensued, it was really interesting to see an IT business answer that question. So, guys literally picked up everything that was on the desk and just went home and because we're Microsoft Teams based, we were straight on the video calls and we use a telephone system called 8×8 as well. So that basically meant guys were straight on the telephone could pass it through to everybody and I have to say it was almost seamless for us, so looking in that sense, that certainly worked. And then of course the interesting thing is I ended up working underneath my sons bunk bed on this tiny little desk, that's the only little space that was available to me in my house. I much prefer to be back in the office though, certainly for some of the time.
What is your view on remote working?
Well, I mean remote working is part of what people that are involved in the workplace have been talking about for a long time. So, what we have done in the last year or so is just jumped over it. We've got past it, whatever problem there was whatever issue there was, issues with trust or whatever that might have been we've just gone over that hurdle, and I think that really is going to change the future of how we work. How many days we go to the office, how many days we work from home. In fact, much of the work that we've done over the last few weeks as people are coming back to the office has been around how do I structure this office to fulfil the requirements now needed? How do I get people back into the office or make them want to come to the office?
What have you enjoyed and what have you missed?
I had only joined ACS five weeks before lockdown. I'd gone from a commute, which was an hour and 40 each way and my commute into Northampton was only around 50 minutes and then five weeks after making that big jump and we were down to zero. So, I certainly don't miss the commute. So that's been that's been interested, and it ended up almost getting three hours back a day, which was just huge, managed to fill it all up with work obviously. I certainly haven't missed the commute, but I'm really wanting to get back to the office. The social aspects of it for me are really key. I feel you can solve problems quickly and effectively much better when you're with people, if I'm honest with you. I think throughout that whole process, it is clear to me through teams, through the video calls for example, you certainly can fulfil that brief, but as a designer I think who listens to and hangs on everybody's word about what they want to do about how they want things to work. The body language becomes quite important in that real being able to build a rapport.
What projects have you been working on recently?
At the start of lockdown, what we did is, as service to many of our existing clients, we worked out what a covid secure plan might look like. We sent that, that wasn't a brief, we didn't ask anybody if they wanted that. That was just something to some clients that we felt might help them through the next few months as they discussed and worked out what they did and didn't want to do.
There was a huge upswell in terms of marketing as everything went social, you know, I think everybody will be aware that, you know, that the LinkedIn world went crazy and those kinds of things. So, we were busy with that. From a design perspective, we were lucky in that we had won a large project with Reed who is quite close to us in Northampton. They've been brilliant to work with as well. And there is an interesting strategy with them. They certainly want to get back to the office and as a business that finds people for other businesses, that's quite interesting in itself. So, we've managed to work through some problems that were created during that time, but I felt we delivered well. And then recently we've done a great job with a company called CB Tax. These guys are doing well and really want a fantastic office space, they really want their staff to come and work in their office. So, they're really putting a huge effort and energy into making somewhere that is really super slick and cool and I can't wait to see the end results on that. it's going to be beautiful, obviously.
What changes have you seen in the interiors industry since restrictions have been lifted?
So, again, that's been interesting. I think people have worked from home and I think most people have kind of felt there is going to be an end to this at some point. We wondered if there would be a huge upswell in purchasing of office furniture for the home. We've not massively seen that here. I think people were making do with the kitchen table or any scenario that was there. I think the interesting flow through from that will be as we return and we don't return to the full five-day week, people working from home 1, 2, 3, 4 days a week or whatever that might be. I think the requirement for home furniture might really build from that perspective. So, there's that and then the opposite side of that is, people wanting to bring staff back to the office, and how are they going to do that? How are they going to achieve that? I think what we've done is we've proven we can all work from home and businesses has done really well working from home. So how that office evolves, how that requirement evolves is what I've been talking about the most over the last week or two.
What 3 things would you want if you were stranded on a desert island?
Well, the mocha pot that gets me up and awake in the work in the morning. My watch that gives me something lovely to look at and love and my wife and kids that make me happy.