A Day In The Life – Paul Hooton, Field Engineer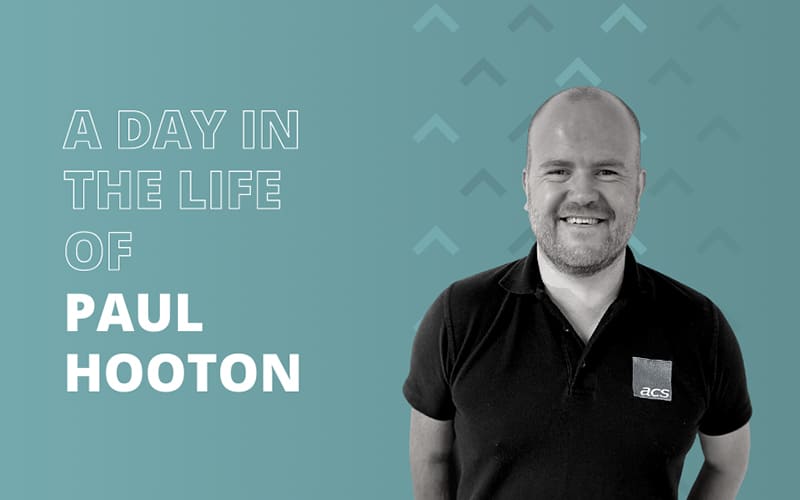 How does your day start?
My day is varied because I'm a runner, so I get up early for a run and head out the door about six for about an hour or so. Then I get back, shower and get the kids up. I've got two young kids under ten so that is a bit of a challenge sometimes, but once they're up, changed, get them downstairs and get breakfast for everyone, I check my calendar because I'm a field engineer. It can vary what I'm doing day-to-day, so I check my calendar in the morning just to see where I am. If I'm not scheduled to go anywhere, then I'd be at home on the service desk helping the other guys out with day-to-day ticket requests.
Why did you join ACS?
The main reason I joined ACS is that they offered me a role that I'd wanted to do for a while. Being a field service engineer, going out visiting clients, meeting customers on-site was something I really wanted to do over the last few years. I've been on many service desks at many companies previously, so this was a perfect opportunity to accept a different role. Another factor was that I was working in Kettering before, which was a 30-minute commute for me each way, whereas ACS is 10 minutes down the road, which is really handy. The family feel you get from ACS, is like nothing I have experienced before. I had heard about that before I joined, so that was a massive pull for me.
How did you find working from home during lockdown?
Working from home during the lockdown, was good and bad. Bad because, being a field engineer, you're so used to going out and about meeting people and resolving issues on site, so that was kind of taken away from me. On the other hand, good points were being on the service desk again. I could use my skills and experience to do that and bring that back to the service desk. Doing that job again wasn't difficult, I kind of settled straight back into it.
But when the field jobs started coming around again, it was nice, especially with the family at home. We had the kids and my wife working from home at the same time, and so we're all crammed on the dining room table, which was an experience, to say the least. Having the kids in the background – sometimes doing schoolwork, sometimes not, as people with kids through lockdown can probably understand – yeah, it was a tricky experience. But we got through it and now I'm back up in the field, it's nice.
What does an IT engineer actually do?
As a field engineer, the service desk guys will take ticket requests and if it's something that we cannot do remotely then we speak to the scheduling team, and they will determine whether it's viable enough for an engineer to visit the site. If it is, then we'll have the call added to our calendar, which we have to check every day, and they'll send us a message to say they need you to go out to the site to have a look at this issue. That could be site down, this is a critical Or it could be the printer is not working properly, a computer is not loading or not logging in for some reason. It's very varied. We receive these tickets via calls or email and they'll get logged into triage. Then that would get distributed to a particular engineer, by Round Robin or to someone who has the lowest number of tickets in their queue at the time.
You always get a notification saying "can you look at this? I'm just putting these tickets in your queue" and then you'll work through the tickets either by date or time order or priority order and then you would either call or email the client. We'd ask if they need any assistance, what the problem is and go through the steps that they've tried so far. Normally, I have an idea from the ticket what the problem is before I've even called the customer, so I've got an idea in my head of how to resolve it before I've even rung them, and then we just jump onto the client's machine and have a quick look.
What do you enjoy most about your job?
I love being involved in projects, they certainly have their perks, it means working weekends but I really enjoy doing that. Working with the team means we can always bounce ideas off each other, so that's another plus. Going out and meeting customers and clients face to face is probably the main plus about the job. I really enjoy that, rather than speaking on the phone. You speak to them in person, get a better idea of what the issues are and how we can resolve it.
What three things would you want if you were stranded on a desert island?
If my family counts as one, I'll take my family. My running shoes so I can go for a nice swift run – obviously, if it's a Hawaiian island, that would be nice. And my phone.