A Day In The Life – Connor Slasberg, Technology Consultant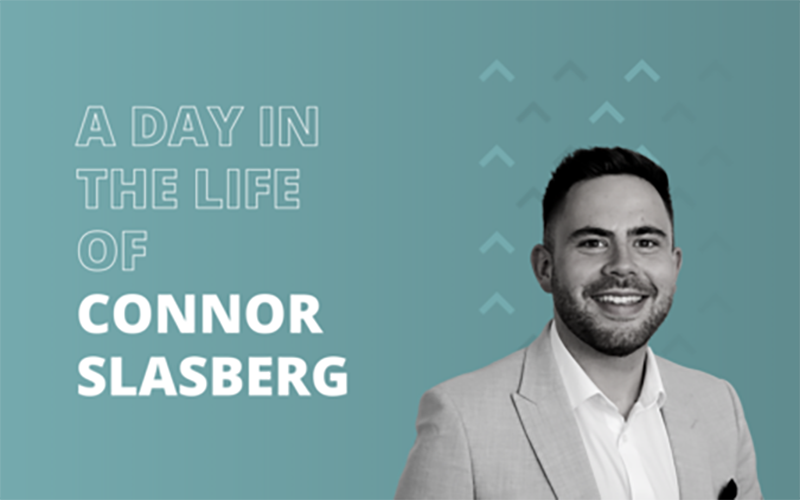 Hi, my name is Connor Slasberg and I'm one of the Technology Consultants here at ACS Office Solutions.
How does your day start?
My morning starts depending on what I have on the go that day so whether I'm at a client site, in the office, or working from home. I'm one of those people that doesn't eat until lunchtime, and I don't drink coffee so I'm pretty much just get up, get ready, get out the door, and get on with whatever I need to do.
What do you love about ACS?
I'd say one of the main things I love about ACS is the different services that we bring together. For people that don't know, we've got the four pillars which are cybersecurity, technology, telecommunications and interiors, and I just love how our services all come together allowing us to support our customers in lots of different ways. That's one of the things I'd say I love about ACS in terms of my role, but generally speaking, it's an enjoyable environment. There are lots of social activities, things like charity football tournaments, we love getting involved in and a lot of social stuff outside of work. It makes ACS a fun place to be.
What do you bring to ACS?
I'd like to think I'm quite a bit of fun to have at ACS. I think I bring a lot of personality to the table and I'd like to try and help out outside of sales as well, like chipping it into some of the service stuff and marketing where I can, so just trying to be supportive to my colleagues around me.
What does your role entail?
My role is focused on helping my managed service customers and non-managed service customers with IT strategy, cybersecurity, procurement, all the different facets that come together to help customers improve IT essentially.
An evolving element of my role has been helping customers understand how they can successfully manage their workforce as they "return to work" and I suppose entice people back rather than drag people back into the office. I work closely with the wider team to do this as well… Bringing together other elements of the telecommunications, the interiors business where I'm not necessarily the expert in but there are skilled people here that help me with that and support my customers in achieving their goals. It's by bringing together all of our services and focusing on IT and cybersecurity, helping businesses improve and get to where they want to be.
Which three people would you take to the pub?
Number one would be Jurgen Klopp, I'm a massive Liverpool fan so I'd have to take him, I think he'd be a great laugh.
Secondly is a bit random. On Instagram there's this chap that does cooking and talk-throughs, it's called WhatWillyCook and I think he's brilliant. He'd probably be able to cook up some good food and I think he'd be a right laugh as well.
Then the third one would probably be my Grandad. He would probably embarrass me in front of the other two. But again, I think he'd be another good laugh to have along.
How do you spend your time outside of work?
Outside of work I like to go to festivals. I play a lot of five-a-side football although not very well. I try to play the guitar, but I haven't done it for a little while now, so a lot of musical stuff.
Also going to the pub, not with Jurgen Klopp or WhatWillyCook or my grandad. It tends to be with my mates, but yeah, I like spending a bit of time in the pub.
What 3 things would you bring to a desert island?
I would take a guitar, so I've got something to do and so I don't get too bored.
An unlimited supply of cheese and broccoli pasta that you get in the sachets, the pasta in sauce ones. I became addicted to those in the first lockdown. I still eat them for most lunches.
Finally, a mobile phone so that I can still speak to my friends and family, and never let my customers down. Isn't that nice?!