Meeting The Needs Of Today's Workforce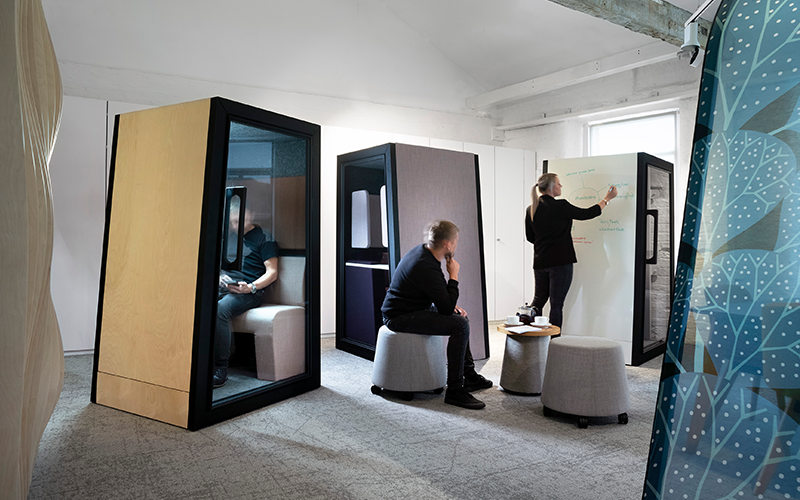 As we began to consider the return to the office post-pandemic, there was one particular item or space that really seemed to highlight the development that we'll need to take on board and that also summed up how ACS hopes to help its clients. This is what we at ACS called the Teams booth.
Interestingly, smart-working specialists Orangebox, a very short time before, had released a new product called On the QT which is a part of its Campers and Dens range.
At ACS we felt that the return to the office would include some time working from home or other spaces, and so this piece of furniture would really become quite important. Technology has been evolved for use from office to office and, in the last year, home to home, but we feel this will shift to office to home calls when some workers choose to remain working from home, or when different teams were in the office at different times. We also feel that the video barrier had been broken and video calls will become the main medium for this type of call. But whatever medium is used, there's still a need for cross-departmental working and On the QT enables that.
On the QT comprises personal and phone booth style pods for when people need privacy in an otherwise open plan office. The taller style proves popular with those want to make a quick call in private, rather than moving to stairwells or corridors, or walking round the office disturbing others. The smaller pods provide a comfortable seating area where users could happily stay for longer meetings of an hour or more.
Both are designed for ultimate connectivity, with Wi-Fi and power sources so that you just step in with your phone, tablet or laptop and you're set up ready to go.
Technology is the 'grunt' when it comes to effective working, it's what makes things happen, but carefully designed furniture is what makes people feel good and comfortable when they're using that technology.
With this in mind, I spoke to Nathan Hurley, Research and Insight Manager at Orangebox, and his colleague Mark Partridge, who is Design Manager, to find out more about the thinking behind their innovative product.
I started by asking Mark if he thought tech or furniture as the enabler.
"I think they are symbiotic. Desks were originally necessary because the tools we used, telephones, typewriters etc were anchored to one point. They are becoming less powerful because technology gives us the freedom to move around. The only restriction is in our minds, the way we think about a workspace.
"We wanted to produce a toolkit of products that could fit into any space and give workers somewhere that was open and collaborative but where there was a comfortable space to take themselves away when they need to."
Speaking to Nathan and Mark, it seems their vision is to move the office to something more like a hub, where people come together in ways they can't do from home. It'll be somewhere they want to visit, not have to visit, and when there's a mix of home and office working, On the QT facilitates that.
Nathan added: "We use expert research to carefully consider the functionality of our furniture – technology, acoustics, comfort and the psychological effects of the space – how it makes the user feel.
"Everything is for a reason. So, we added the Kink, which is part of the ergonomic design of the booth, and that not only deflects sound waves in the right direction, so you don't get bounce-back but it also creates just enough extra leg room to make sitting in there for a one or two-hour meeting so much more pleasant. Similarly, we looked at things like the thickness of the glass, so that it is private but still allows excellent Wi-Fi connectivity.
"As we move away from traditional office space, human beings have to be at the heart of that. From now on, the action is not going to be focused on each workstation but is going on all around – offices will no longer be purely enclosed, or purely open plan, but will break down barriers and provide a space that suits all users."
Talking to Nathan and Mark confirmed our thinking that the process has gone from what was maybe termed 'flexible offices' into something that is more like 'evolved offices', something that at ACS we have termed 'Beyond Flexible'.
To find out more, contact ACS on 01604 704000, email info@acs365.co.uk or visit www.acs365.co.uk