Harrogate and District NHS Foundation Trust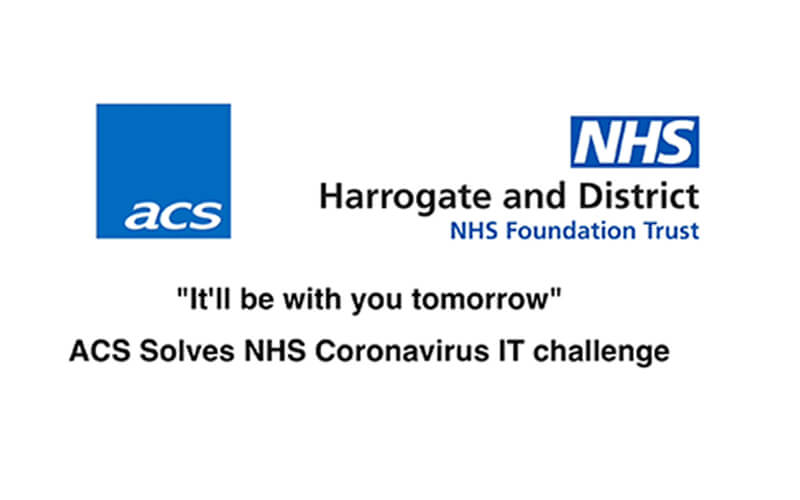 ACS Solves NHS Coronavirus IT Challenge
The Harrogate and District NHS Foundation Trust employs over 4,000 people and provides care for individuals with a wide range of needs.
Like every branch of the NHS, it has experienced an incredibly challenging time during the COVID-19 pandemic. This was exacerbated due to a prior decision to implement a new IT infrastructure – the changing nature of which they simply couldn't have foreseen.
Thankfully, they made the right decision. Because, although they didn't know it at the time, when the Trust cast the winning vote on the ACS tender, they guaranteed IT assistance, support and service which would play the role of saviour during the toughest time in its history.
The brief
The trust had put out an invitation to tender, which ACS picked up on and responded with a package centred on HP devices.
The procurement was undertaken under the Crown Commercial Services (CCS) Technology Products and Associated Services framework. ACS sit on lots 1, 2 and 3 of the framework, which enables us to supply hardware and software solutions, along with wraparound product delivery and professional services to the public sector.
"ACS were able to come in as financially the most competitive. But, more importantly, they were able to meet the criteria we put forward," explains Stuart Wilson, IT Support Team Leader at the trust.
The ACS solution
The initial requirement was for a significant number of new devices, which needed to be stored securely and cooled off for a particular amount of time before implementation.
However, once the pandemic hit, the requirements changed rapidly. Kit that was typically used infrequently was suddenly in use constantly due to a far more dynamic workforce and new home-working rules.
The trust is relatively small and, as one would expect, employs some of the UK's most important workers, including an exceptionally gifted respiratory nurse. "Our stock of available laptops was very minor," explains Stuart. "This made working from home for those who really needed to incredibly challenging without bringing in new mobile devices at short notice."
This called on a complete revision of the original brief – something ACS was well-equipped to deal with. But that wasn't the only challenge; with the trust's requirements changing almost daily, ACS had to respond quickly.
"Having couriers and logistics partners that are able to ship equipment on the right-sized vehicles at the right volume with the right access equipment at short notice is really important," explains Stephen Harley, Presales Director at ACS.
This effectively turned ACS into knights in shining armour overnight, because things were about to get much worse.
The implementation
"The delivery from the bonded storage was exceptional," enthuses Stuart.
This was one of the biggest challenges during the COVID-19 outbreak and subsequent lockdown. Thankfully, ACS' buying power and logistics relationships meant there was immediate access to the right devices.
Supplementing the original order was therefore entirely possible – even during a time when demand for mobile devices was astronomically high. In fact, during the lockdown period, suppliers were seeing demand levels surpass those of the festive period.
"I would send through a request for a certain amount of certain items, and they'd arrive next day. I've never had a service provider like that before. Everybody commented on it. The team that were rolling out the equipment were planning for about four or five business days' delivery, and it was like, 'no – it'll be here tomorrow morning'!"
The result
Through no fault of their own, the trust suddenly found themselves in need of a very different set of IT requirements.
ACS' ability to turn on a sixpence in terms of the brief and lean heavily on its fantastic supplier and logistics partnerships turned what could have been a disaster into an incredibly efficient IT roll out.
"It's really important to ACS that we prioritise our customers," said Stephen. "But also, the NHS is obviously going to be key for everybody, so we wanted to make sure we were doing the best job possible by delivering for them."

"ACS has become one of our regular and trusted suppliers," confirms Stuart.
The CCS framework is a big element of the growth strategy at ACS, and we're building a team to focus solely on procurement for the country's vital public services. We've got a strong story to tell in the public sector, and we're incredibly excited about how ACS will expand its service delivery to organisations like the Harrogate and District NHS Foundation Trust in future.