ClickShare Wireless Conferencing Systems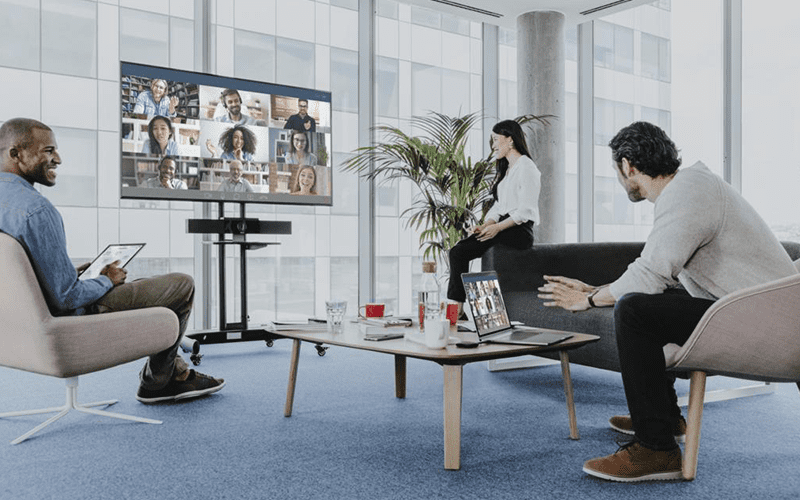 For better hybrid meetings and an immersive conferencing experience, ClickShare Conference has just what your business needs. Connectivity is at the heart of modern business. With wireless conferencing technology from ClickShare team members in the office can link up and share content with remote meeting participants in a matter of seconds.
Intuitive teamwork, hassle-free sharing, central management and robust security are the hallmarks of ClickShare. With our wireless conferencing systems and collaboration tools, you can 'bring your own meeting' from anywhere. You can connect from any device and start to collaborate with remote colleagues and virtual attendees with the minimum of fuss. You give hybrid collaboration solutions in your workplace.
You bring video conferencing to a whole new level in any meeting room, huddle room or conference room. Unlike a traditional conference system, a video conference in any meeting space with ClickShare Conference is simple, easy, wireless.
Great Things Happen When People Click
30-day free trial of ClickShare
*This trial is only available for end customers.
1 Register
Register for a trial and let us know where you want your ClickShare to be shipped to.
2 Try
Experience how easy ClickShare is to use. No installation or training needed.
3 Decide
Decide whether you want to buy ClickShare or not and prepare your ClickShare for pick-up.
Have you already discovered the Barco ClickShare experience?
Upgrade today and save on your favourite ClickShare device
Simple, easy, wireless.
Once you've experienced how seamless wireless content sharing and collaboration with ClickShare is, you can't imagine a meeting without it. Take your company into the digital workplace. Optimise your meeting rooms for hybrid meetings, where part of the participants are remote and part in the office. ClickShare Conference shares your apps from your laptop on the room display and connects them to the camera and speakers in the room for better hybrid meetings.
Benefit from the latest generation ClickShare devices to make any meeting experience perfect.
Get a significant discount on a new ClickShare model when your old Barco or competitive device is traded in.