How ACS Transformed CABE's IT Infrastructure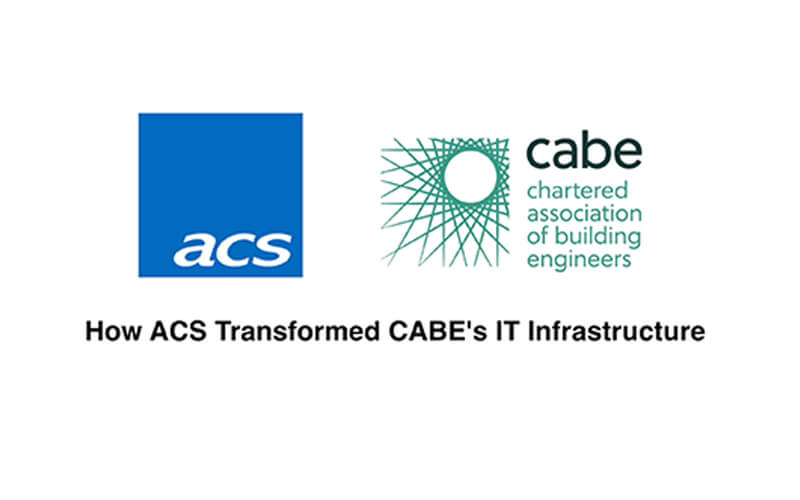 Chartered Association of Building Engineers (CABE) is a member-focused organisation that brings like-minded professionals together to share knowledge, raise standards and develop professionals in the construction sector. They have two offices – one in Hong Kong, and one in Northampton, enabling them to serve a global market.
As a non-profit operation, CABE is focused on bringing like-minded professionals together and ensures its members can show their peers, employers and the public that they run competent, ethical businesses.
Having identified that their IT infrastructure at the Northampton office required an overhaul, CABE turned to ACS to transform the network, software and hardware they relied on each day.
The brief
CABE knew that their IT systems were causing both productivity and security headaches, but simply didn't know where to begin.
This is where the brief for ACS started. What exactly was wrong? Where should the bulk of the IT investment be focused and in which areas would CABE see the most positive impact on their operation?
There was also an increasing need to have contingencies in place for remote working to help CABE plan for the unexpected and ensure team members could operate within a more dynamic working environment.
Speed was identified as one the most important elements during the upgrade. The old system was clunky and meant that staff had to wait longer than necessary to access information for members and internal processes.
The ACS solution
The ACS team began by conducting a thorough audit on CABE's entire IT infrastructure.
The audit focuses on identifying what ACS refers to as 'red bombs'. These are systems, processes or hardware which present a risk to the security of the overall infrastructure. The result of the audit enables an IT roadmap to be created which works to address those inherent issues by removing and, where applicable, replacing the red bombs with modern solutions.
"A kind way of saying it would be that they had quite a few red IT bombs within their building," explains ACS External IT Sales Consultant, Simon Portwain. "We looked at where things sat at that moment in time and which best practices and systems would enable them to jump up to the next level of security and productivity. We wanted to make it so that IT 'just worked' for the team at CABE."
The result of the audit was a simple to follow list of recommendations and requirements. This was vital since CABE had limited in-house technical knowledge, and the simple traffic light system indicating good and bad elements made the path ahead perfectly clear.
The implementation
The first phase of the upgrade was focused on tidying up the existing infrastructure and building in business contingencies which hadn't existed before.
The next stage was the introduction of cloud-based software, during which the CABE team noticed an immediate, positive impact on their day-to-day work.
It was a similar story with computer hardware. The ACS team quickly realised that there were several CABE employees who didn't need traditional desktop devices. These team members were transitioned seamlessly to mobile devices such as the Microsoft Surfaces.
The hardware replacement plan resulted in overnight wins that improved efficiency and offered speed the CABE team simply hadn't experienced before. The simple introduction of new equipment enabled the team to undertake operational procedures in a far more efficient way.
ACS also helped CABE adopt Microsoft 365, but the assistance extended far beyond simply installing the software and leaving the team to it. The introduction of ACS' eTraining Portal has enabled CABE to really make the most of Microsoft's deep feature set, thanks to a huge library of how-to videos which can be watched at any time.
The result
"The whole process undertaken by ACS was so simple for everyone at CABE to understand," explains Katie Di Stefano, Head of IT and Digital at CABE. "They provided a clear roadmap for moving to the cloud and helped us by providing just the right tools and modelling within an amazing timescale. Speed was always one of the main things we struggled with, and now we can serve our members in a much more efficient way.

"The eTraining Portal has been so useful, too. We've actually implemented it as part of our employee on boarding process, so that every new team member has immediate access to a number of modules that help them get to grips with cyber security and the most important Microsoft 365 features."
Remote working is now finally a reality for the CABE team. The introduction of cloud-based software has enabled them to take a more dynamic approach, resulting in several changes to company policy which now allow flexible working. This is thanks largely to the introduction of the Microsoft collaboration suite, and Teams, in particular.
"Having cloud-based systems alongside efficient hardware has really transformed how we operate as a business".