ACS Transforms BMTC's IT Infrastructure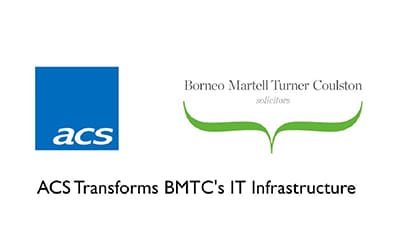 Borneo Martell Turner Coulston LLP (BMTC) is a family-owned solicitors firm based in Northampton.
With branches in both Northampton and Kettering, BMTC was formed in 1993 when local solicitors Keith Turner & Ashton merged with Leo Coulston & Co. Today, BMTC consists of nine highly experienced partners and a total of 50 staff across its two sites.
Like so many businesses, 2020 was a challenging year for BMTC. New ways of working and the requirement for a complete IT overhaul called for some real expertise to see them through, which led BMTC to ACS.
The Brief
The team at BMTC knew that a thorough review of their existing IT infrastructure was desperately needed. However, they wanted to find a local firm who had the experience required to deliver meaningful change.
It became apparent during the initial meetings ACS held with BMTC that there were a number of areas in which support was required; the existing infrastructure was starting to show its age.
"We last had a review of our IT back in 2013," explained Clare de Banke, Managing Partner at BMTC. "Now, we have more staff and many of them have been saddled with old hardware."
The risks of not acting were considerable. Significant downtime was a very real possibility and some of the operating systems in use were no longer supported by manufacturers.
"We wanted to be up-to-date and keep both our business and client data secure," said Clare. "All in all, we just needed to review everything we had, IT-wise."
The ACS Solution
The first task was to conduct a thorough onsite audit of BMTC's IT infrastructure. This included everything from the network to individual devices and software.
The audit took around a day to complete and involved an ACS expert working directly with the team at BMTC.
"I think it confirmed some of the weaknesses we were aware of, but it also gives us food for thought and identified other possibilities. The ACS audit revealed that were a number of things we could do which would future-proof our technology."
The audit enabled the ACS team to deliver a fully considered, relevant managed services and infrastructure proposal. The main issue to overcome was clearly the hardware, such as BMTC's servers, which were outdated and running unsupported operating systems.
The Implementation
The goal of any ACS infrastructure audit is based on positive change. The ACS team considered carefully what each new piece of proposed hardware would mean for BMTC. It was vital that any changes implemented should deliver measurable, immediate benefits for end users.
Early nerves about technological change were soon dispelled as ACS got to work. As with any project of this kind, the team was tasked with updating the technology BMTC had while also transforming some of the attitudes towards the devices and software used.
Law is a vertical which is ripe for digital transformation, but there are many traditional practices inherent within businesses like BMTC. Throughout the implementation of the new system, the ACS remained respectful of those practices.
One of the biggest challenges during the project was the COVID-19 pandemic which had a large impact on ACS' ability to carry out their work. Despite this, the engineers worked tirelessly to ensure that the BMTC team could transition seamlessly to remote working.
This was achieved by configuring and delivering new laptops with remote working capabilities to BMTC within just a couple of days' notice.
"ACS were so adaptable during that process," said Clare. "Just before the first lockdown when we realised lots of our staff would suddenly be working from home, ACS were able to help us with the needs we suddenly had."
The result
Despite the unforeseen challenges which presented themselves during the project, ACS successfully completed the infrastructure overhaul in good time.
"We're particularly pleased with the team at ACS," said Claire. "They're friendly, approachable and we know that we can pick up the phone and talk through any issues that arise in future to ensure they're resolved quickly."
BMTC is now set up for a whole new way of working, with remote access as immediate and secure as it should be and an internal infrastructure which features the latest hardware and operating systems.
On-going support and future planning from ACS is continuing to provide the peace of mind they need as they head into 2021.
If you're considering and IT review or refresh this year, simply contact us today to find out how we can transform your business.